The Safest, Most Reliable, Punctual And Trustworthy Airport Express Taxi Or Cruise Port Taxis Peru Has To Offer.
USE OUR DISCOUNT CODE AT CHECKOUT FOR THE BEST RATES WE'VE EVER OFFERED IN 7 YEARS OF OPERATION
DISCOUNT CODE: TRAVELPERU
"What's the safest and best Lima Airport Taxi or Cruise Port Taxi service in Peru"? That's the first question I would have on my mind when looking for a Taxi. Well, you just found them right here at Gringo Taxis. We not only want to earn your business today but we want you tell your friends about us. With many of our Lima Airport Express or Callao Cruise Port taxi driver's speaking English. You'll feel like you just got a free added bonus!
Our Lima Airport Express Taxi Is Getting Noticed
In recent years many blogs have taken notice as well. Places like International Living, Streets of Lima, New Peruvian, Peru Telegraph. Even the every day people comment on us, like here at Superclunk.
Flights To Machu Picchu
 Unfortunately an actual flight to Machu Picchu is impossible, and no one can provide a taxi to Machu Picchu. But if you're looking for the best tour operators in Peru and Bolivia for things like tickets to Rainbow Mountain, Karikuy in our opinion, is the best place to plan your bucket list with. We've been working with them for year's now, and no one's reported a bad experience.
We Make It Easy To Get Most Everywhere
No matter what size your group is, simply provide the details on your scheduled Lima Arrival at the Callao Cruise Port or Airport. We'll handle the rest. And whether you're heading to one of the top 50 restaurant in the world like Astrid y Gaston, Maido or Central. Or you're looking for some fantastic, and more reasonably priced Peruvian food or heading home. Your best bet is a trustworthy and safe Airport Express taxi service in Lima or Cusco.
Gringo Taxis Lima Airport Express Taxi/Cruise Port Transfer Service Is The Safest, Most Reliable and Punctual Taxi In Peru
In 1535 Francisco Pizarro named what is now Lima "La Ciudad de Los Reyes", or the City of Kings, and you've finally made it and want the safest, most trustworthy Lima airport or Cruise port taxi service to Miraflores there is.
We are constantly asked "how safe is Lima, or "is Lima safe"? We get it, whether it's a Lima arrival or a Lima departure a safe and trustworthy taxi service is your top priority, as is ours. With Gringo Taxis Lima Airport Express Taxi, choosing one just got easier. You can quickly book a taxi on either of our Lima Arrivals or Lima Departures pages in the menu above.
Travel Time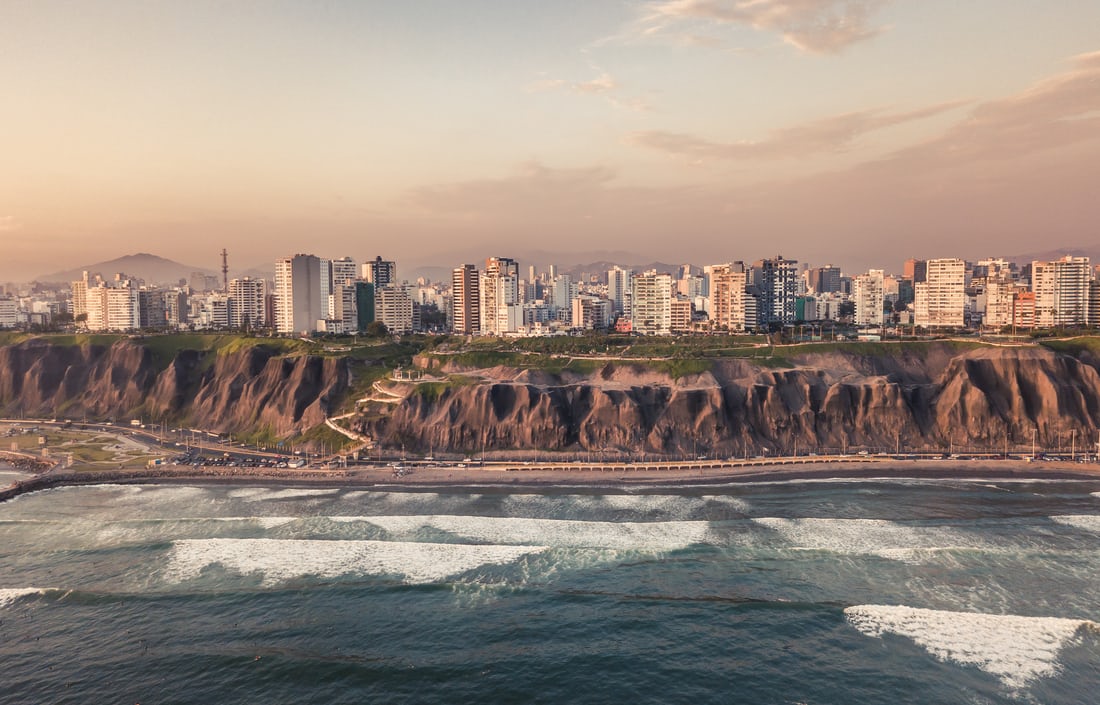 The facts from a professional – how long does it really take to go from the Lima airport to Miraflores.
OK, you asked for it and here it is. You may have read on the various blog posts floating around the internet saying "it's a 30-45 minute ride to Miraflores". What the Lima blogs don't tell you is this. A 30-45 minute ride to or from the Lima airport is not realistic of Lima traffic. Most days you should plan on the trip taking closer to and hour. This is due to the unpredictability of Lima traffic. If your flight arrives or departs anywhere near 7PM local time, you're in for at least an hour long ride, except on Sundays. 
Your Safety Matters
Lima traffic is said to be some of the worst in the world. For safety reasons we stay on main roads. This is for your safety, not ours. We live and drive here all day, every day. And staying on the main roads is imperative to your safety. Companies and driver's who would use or allow their drivers to use side streets near the Lima airport or cruise port are not looking out for you. But rather for their bottom line. Whether you hire a car in Lima or hire a car in Cusco, you've hired a group of true professional driver's who are more worried about your safety than getting to their next trip.
Where Gringo Taxis Operates
Whether you're staying close to the airport, or you're still undecided, we can still help. We also provide Cusco airport and hotel transportation in Cusco, Ollantaytambo, Urambamba, Pisac areas.
Ok to be fair, not everyone wants to stay in Miraflores or a Cusco hotel. Lots of people want an Airbnb in Barranco, or one of the up and coming hot spots, like Pueblo Libre, Lince, Magdalena del Mar or many others. Bottom line, if you're in need of a Lima airport transfer, or a pickup at the Callao Cruise Port there's no need to worry about where you're going to stay in Lima or Cusco. With Gringo Taxis, visiting family in the far corners of town is no problem.
Not Staying In Lima
Your trip to Peru isn't complete without a stop in the historic city of the Incas. If you're not staying in Lima, we also have cab service to and from the Cusco Airport. Hiring a Gringo Taxi, ensures a Safe trip with Reliable, Punctual and Dependable drivers from beginning to end.
Why Choose Gringo Taxi Express Airport Taxi Service?
We'll provide you with  a safe and comfortable late model, properly insured car with properly licensed drivers airport cab .
What You'll Get At Gringo Taxis
Gringo Taxi stands out, not only because many (NOT ALL) of our drivers speak English. We also stand out due to our English-speaking customer service, quick timely and often commented on communication, via email, WhatsApp or any of our online platforms. Ask any of our team, and they'll steer you to some great Peruvian food places or a place to learn more about Peruvian culture.
Professional & Punctual Drivers
You will get a Safe, Reliable Punctual and Dependable Professional Driver, who use's a flight tracker to know exactly when you land.
Gringo Taxis is the North American, Peruvian Connection making it easy to choose us as the most reliable and punctual airport express taxi service in Peru. Don't settle for unsafe street cabs or unreliable taxi apps that often cancel on you, leaving you stranded at the last minute. All of our driver's track flights using "Flight Aware". So you can expect unsurpassed reliability, punctuality and dependability with a nearly impeccable record to prove it. Our drivers pick the safest, fastest route based on experience not by blindly following a map. As long as you've entered the correct information on the reservation form, we'll take care of the rest.
Our testimonials and reviews from real people, prove we have the best Lima taxi service in the game.
"Their attention to detail and response time is impeccable!! I highly recommend them".

Shannon Abad

5 Stars 

"Used this company for 6 separate trips from the airport to the hotel and back. All my clients reported great satisfaction and would not hesitate to use them again in the future".

Paige Hawkinson Tyler

5 Stars

 

"Dependable, punctual, knows the city, English speaker, good price"
Booking Our Taxi Service is Easy
Get an Epress Airport Taxi to the Lima Airport
Need a reliable taxi service  to the Lima Airport? You can book an Lima airport transfer in minutes. All you need to do is tell us what time you'd like to be picked up, and give us your address. We'll do the rest. Before you book a Lima airport transfer, there are two things to consider: First, the departure time; and second, the traffic conditions. For all airport transfers you should plan on a one-hour ride to the airport.
Especially for flights to Cusco, you want to arrive early as check-in lines can be quite long. Most international departing  flights leave late at night, so you should be fine if you leave your Miraflores hotel about 3 hours before the flight. However, post Covid-19 the Lima Airport is really pushing to get people to arrive with 4 hour's to spare.
If you're flying to Cusco, your flight might be in the middle of the day. In that case, order your taxi to the Lima airport earlier. Traffic in Lima can be terrible, and we don't want you to miss your flight.
The Best "Taxi Seguro en Lima"
Ask any Peruvian and they'll tell you to take a "taxi seguro" or a "safe taxi". But what does that even mean?
Unfortunately, many street taxis are not up to code. You'll see cars that seem to have more fiberglass filler than actual body panels! What's more, many drivers are working on expired or even suspended licenses. You wouldn't want to miss your flight because the cops stopped your car on the way in!
Although it's not very likely to happen, some street taxi drivers are far worse than that. On occasion, a street taxi will rob its passengers, or meet up with some accomplices who do so. Whenever you travel to the airport from Barranco or go from the airport to Miraflores, you become a target.
Even applications aren't immune to this. There have been cases of people driving for Uber for a while, building up a trustworthy account, and then selling that account to someone who intends to use it for crime. Even one of the popular bus companies here will tell you DO NOT USE UBER FOR AIRPORT TRANSFERS . Our drivers will always put your safety first. Next time you need a "taxi seguro en Lima", remember Gringo Taxi.
Gringo Taxis Offers A Unique Service
Give our Lima Taxi Service a try for yourself and see what all the hype is about. We've maintained our rating on TripAdvisor above 4.5 stars since the day we started and continue to rack up positive reports from our customers. And now with a "Certificate of Excellence" there's no better time to schedule your ride.
Our Facebook page adds more proof to the pudding. And you can read there some of the messages we've received from clients if you're still unsure.
There had to be a way to bring reliable drivers to customers. And Gringo Taxis is doing it.