How To Book A Gringo Taxi Explained Step By Step
Booking a Gringo Taxi has never been easier. It's also safe, fast and convenient from anywhere you have internet access.
If you have any trouble with the booking process you can check back here to help guide you through the process.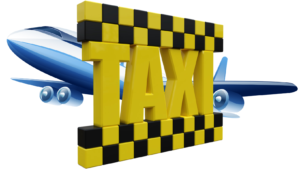 Go to the main Gringo Taxis website and choose you location either from the menu at the top or by clicking the big yellow button indicating your desired location.
In this example we'll be using the Lima Arrivals Page. Your page may be slightly different but the overall process in the same.
Enter the pickup date and time as shown in the picture below. Here you can also choose the district you are going to or being picked up in. In the photo I'll be choosing Lima Airport To Miraflores which is the most popular area for tourists.
Just below the districts you can select a single trip or a round trip where it says "One Way". Simply click on the box and choose a round trip and both will be scheduled all at once, no need to make a second booking.
Here you can also select the number of passsenger. This will automatically select the available vehicles for you in the next step.
The next row down that you can not see in the picture is "Extra Time". This feature allows you to pay for additional time in advance rather than at the last minute for parking. We allow between 30-60 minutes free parking but you may have lost your luggage or coming into the country with a pet and need to deal with the various agencies delaying your pickup beyond the free time we offer.
Finally in the bottom right corner select "Choose Vehicle"
See I told you it was convenient!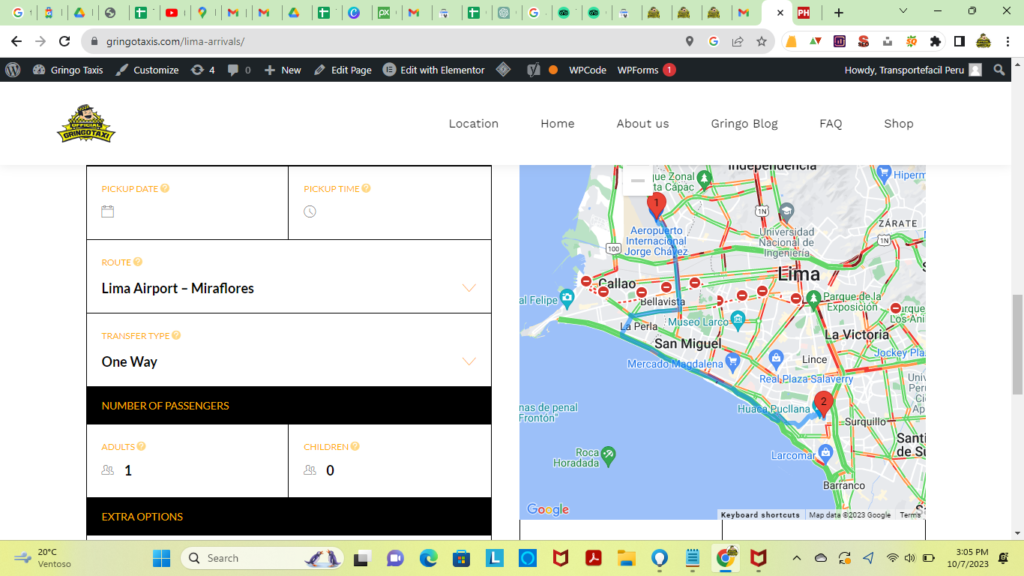 Just above the Mini bus you can select an even more specific vehicle based on not only the passenger count but also based on your luggage count. This Ensures you get the right vehicle for the job and not find out last minute everything doesn't fit.
Here is where you will select the vehicle you need to fit your needs. Any thing from a Standard Sedan to a 14 passenger Mini bus is available here. Simply scroll down the page and click "Select" when you find teh vehicle you're looking for.
After clicking "Select" the page will bring you a bit further down to ask about any additional things you may need or want to make your ride as smooth as possible. If there's nothing you need there simply ignore that and click the "Enter Contact Details" Button
In this step you will enter your "Contact Details" as shown below and leave any important comments.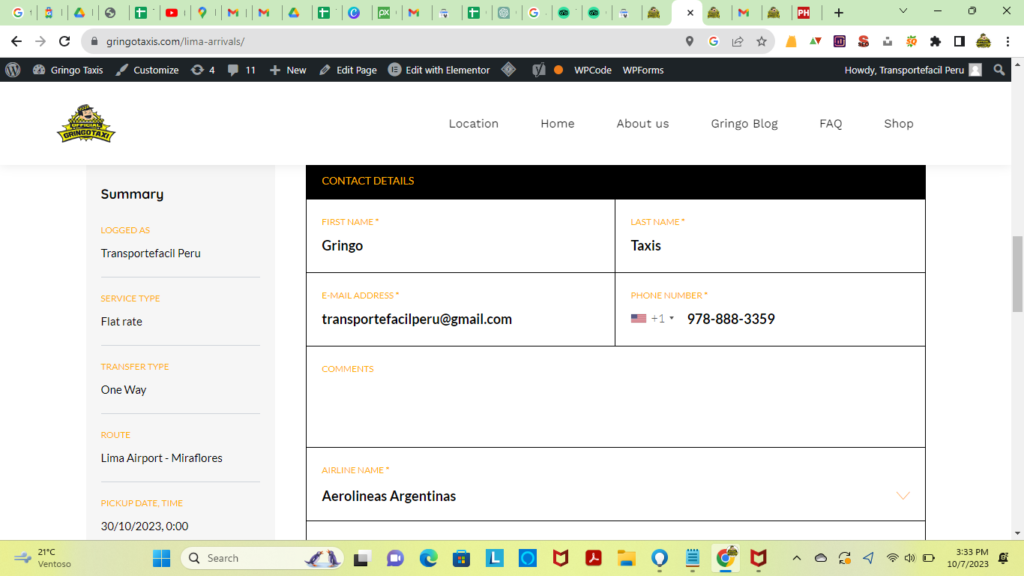 Here you will add important information regarding your flight details. Such as what airline, time of arrival, destination, number of bags you have. This is our double check to make sure we have all the details on your luggage. Last thing we want is to have a suprised client that their luggage doesn't fit in the vehicle.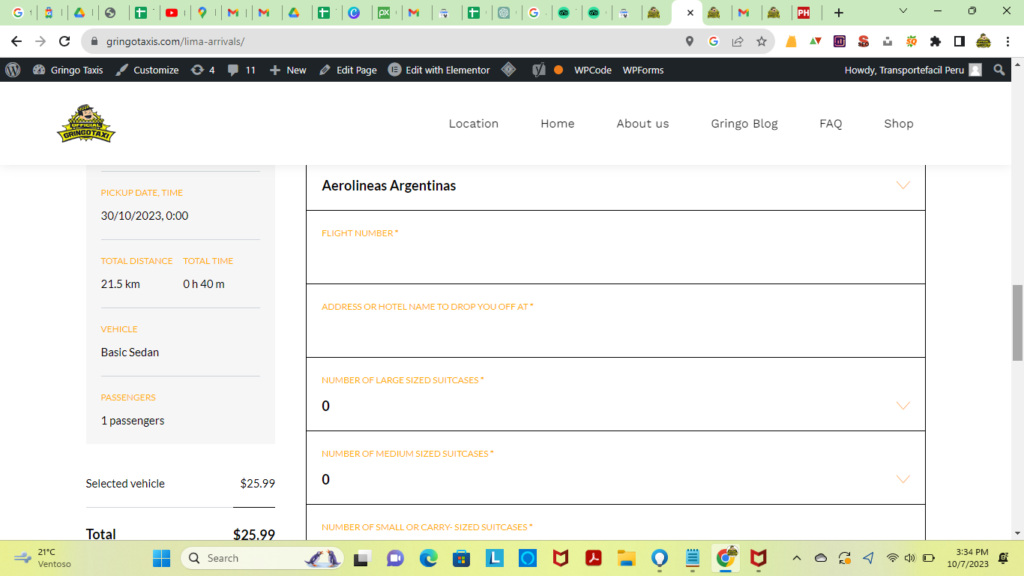 This next step is your Billing Information.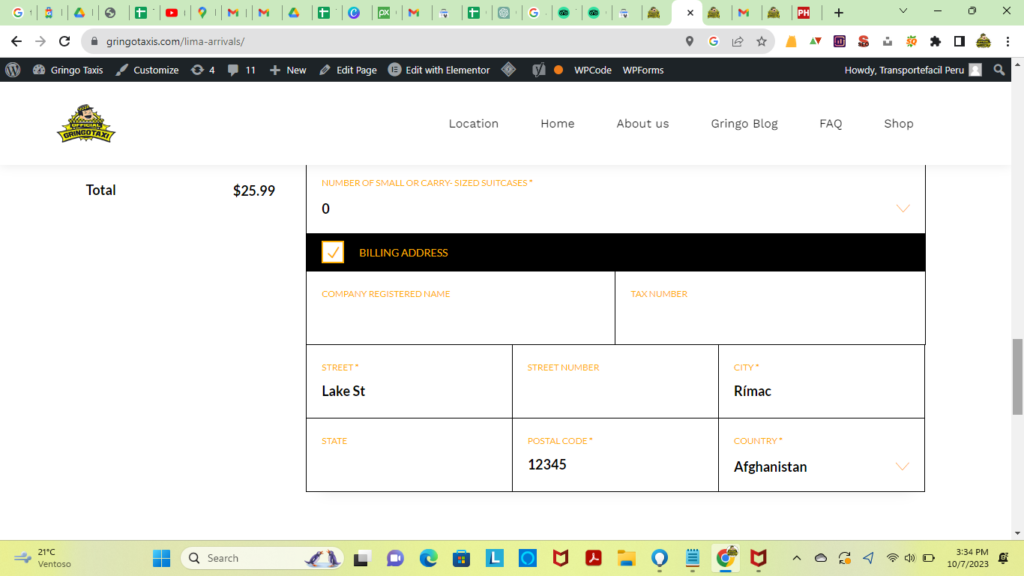 And finally your chosen payment method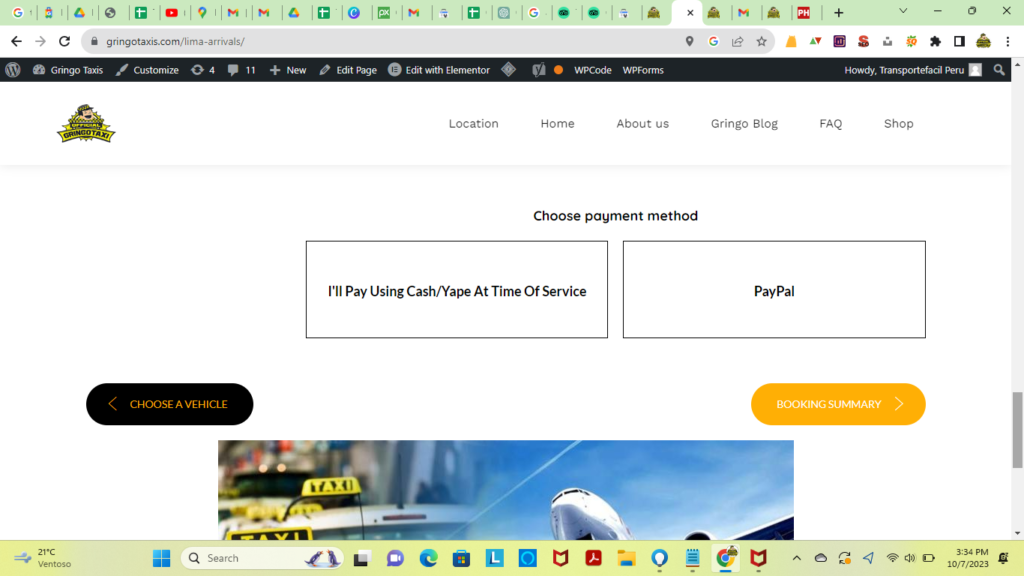 Click "Booking Summary" as shown in the above photo and Congratulations! You've just ordered a Gringo Taxi. If you've chosen to pay in advance (Recommended) a Paypal Screen will appear with a secure payment link.