As you may know, Peru's borders were closed from mid March until October of 2020. Now that the borders have been opened, there are some new protocols to follow. This can be a bit overwhelming at first. However, getting back to this beautiful country was easier than I expected. Traveling alone on November 7th, I successfully entered Peru. Below, I'll outline the new protocols to hopefully make it easier for you to navigate yourself. 
Keep in mind that requirements can change. This is written based on what I know to be true at the time of writing and what proved to be true on my November 6-7 journey from Spain to Peru via Brazil.
First, make sure that you are flying from one of the approved destinations. Personally, I chose to connect in Sao Paulo (GRU). I made this decision because I know that Brazil does not currently have any special entry or connection restrictions that might have further complicated my trip. According to IATA, the approved flight origins include:
Asuncion (ASU), Atlanta (ATL), Bogota (BOG), Brasilia (BSB), Buenos Aires (EZE), Cali (CLO), Cancun (CUN), Cartagena (CTG), Cordoba (COR), Guayaquil (GYE), Houston (IAH), Iguazu (IGR), La Habana (HAV), La Paz (LPB), Los Angeles (LAX), Medellin (MDE), Mendoza (MDZ), Mexico (MEX), Miami (MIA), Montego Bay (MBJ), Montevideo (MVE), New York: John F Kennedy Intl (JFK) and Newark Liberty Intl (EWR), Orlando (MCO), Panama (PTY), Porto Alegre (POA), Punta Cana (PUJ), Quito (UIO), Rio de Janeiro (GIG), Rosario (RSJ), San Jose (SJO), San Salvador (SAL), Santa Cruz (VVI), Santiago (SCL), Sao Paulo (GRU), Toronto (YYZ) and Tucuman (TUC).
Documents to present at check-in
Your return flight itinerary showing the date you'll be leaving Peru.
If you need a visa, you should show it. I am a US citizen entering Peru as a tourist; so, I didn't need one.
Negative COVID-19 PCR test results. The results should have been issued within 72 hours of the first flight departure time.
A copy of the Affidavit of Health and Geolocation online form. This must be completed 72 hours before departure.
Make sure to plan on having your COVID PCR test taken in time to have the results in your hands within 72 hours before your flight. I scheduled my PCR test 48 hours before my flight because the clinic assured me I would have the results within 24 hours. Tip: I didn't want to do the nasal swab PCR test because I find it invasive. I was pleased to find a lab that offered a saliva PCR test. Rather than having to have a swab up my nose, a synthetic cotton like swab collected my saliva instead. This was accepted with no problem because it is also a PCR COVID test. It seems that what the airport staff look for on the test result is the name, date, "PCR", and "negative." Print a hard copy as you'll have to show this document multiple times.
72 hours before your flight, complete the Affidavit of Health and Geolocation online form. Print this and bring a copy with you. Tips: US citizens should choose EE.UU. under the Nationality field. Also, make sure to click the red "+ Agregar" button after completing the information in the fields that include that button. Otherwise, you will not be able to submit the form. Print this out after hitting "Register" so you can show it at check-in, boarding and again when you land in Peru.
Buy "surgical" masks.  It's best to have a few so that you can change them during the long flight in case they get dirty or you just feel you need a fresh one. In order to board the last leg – Sao Paulo to Lima, I had to have a "surgical mask." The flight attendant who checked my boarding pass in Sao Paulo said the one I had didn't qualify so she gave me one. 
Buy a face shield. You have to wear this in addition to your surgical mask in order to board the flight that actually lands in Lima. 
Print your ticket that shows your return flight information if you are entering as a tourist. I was able to show mine on my phone without having it printed. Nonetheless, I recommend printing it just in case your phone dies.
Book an airport pick-up by a safe and reliable driver! I booked with Gringo Taxi as I always do. They are punctual, professional and their cars are comfortable and clean.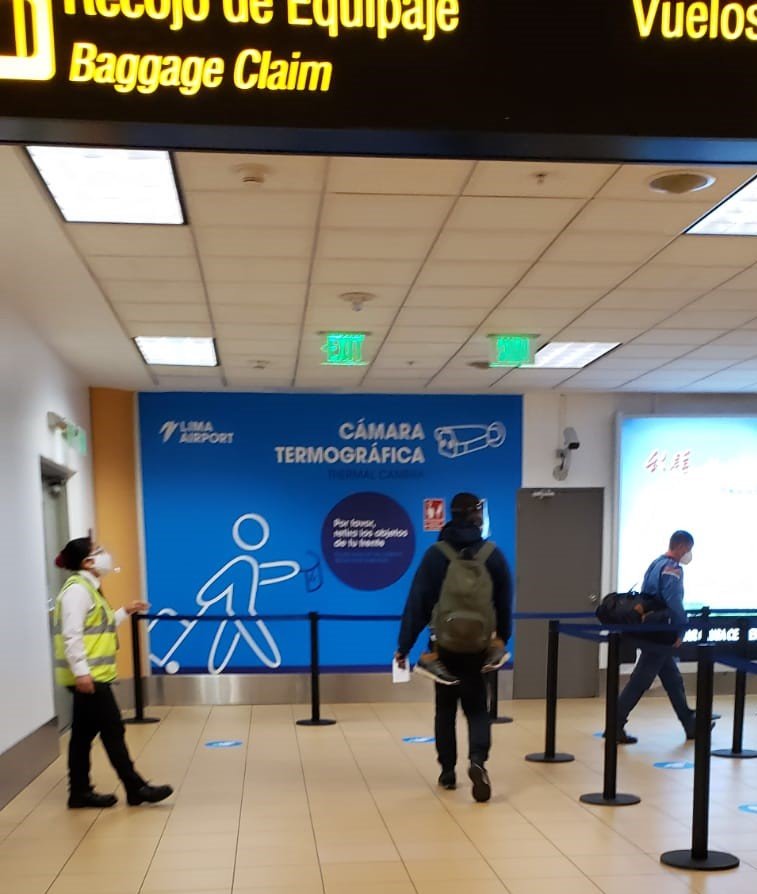 Arriving at the Lima Airport
When I arrived at theLima airport, I noticed that they have installed thermographic cameras. The airport worker asked each person to remove his or her face shield in order for the camera to take your temperature before proceeding. After the temperature was taken, there was someone in scrubs asking to see the negative test result before sending me to passport control. 
At the immigration counter, I was asked for the reason for my visit and how long I planned to stay. Immigration no longer stamps your passport. They just look you up in their system and authorize your stay for however long they tell you they will. I told her I would be staying 2.5 months. So, she authorized my stay for 90 days. Going through immigration was a breeze! 
Then, I picked up my luggage at the baggage claim. Walter with Gringo Taxi was waiting for me just outside the door. It was a relief to see a familiar face and know I was in a safe ride to my destination in Lima.