Peru's Return To The Sky
Updated June 29, 2020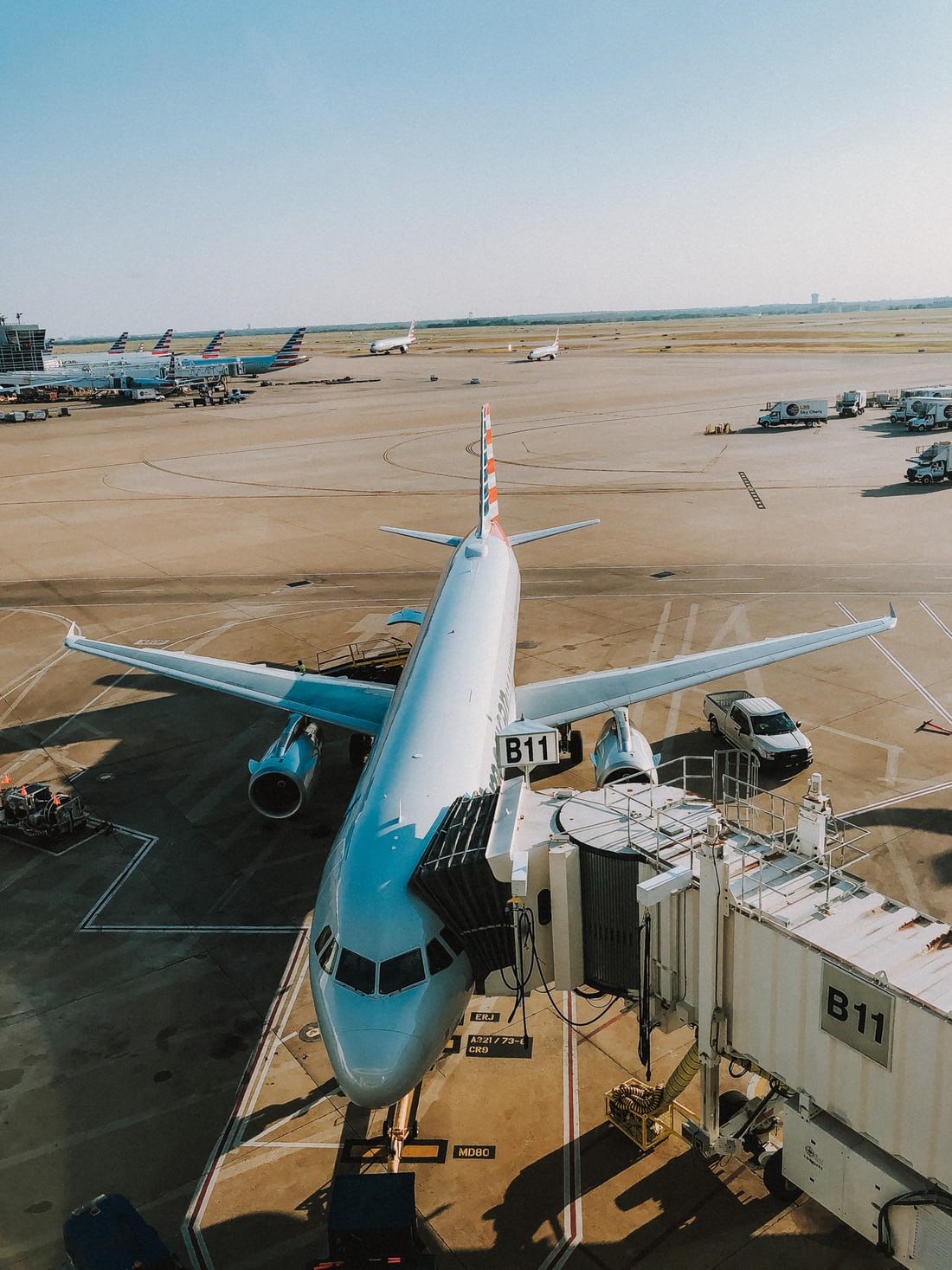 Peru waits for a return to the sky.
Peru's return to the sky has been a long awaited event and seeing that most of the entire country depends on tourist to survive day to day its understandable. People in Peru have been fixated on when they'll be able to get back to work and feed their family's. To this point the government has been less than helpful in providing information other than numbers of people who are sick and or passed away. While it's important information so is when people will be able to get back to work. Peru as a whole depends largely on the tourism sector, places like Cusco, Arequipa, Puerto Maldonado, Trujillo and Iquitos among others, will suffer tremedous loss of income and many will simply fold up their businesses.
And while this article doesn't point directly at Peru, it does represent the reality of Peru If you know anything at all about Peru you know that 70 plus percent of the population works in whats called the "informal sector". These are people who literally work today so they can eat today, they have no money in savings for healthcare, no money to move, and now no money to buy food with.
Are Peru's Return To The Sky A False Hope?
Recently Delta Airlines has published they plan to return to Lima Peru via Atlanta Georgia (Delta 151) in the later or second part of May.
Unfortunately we know Peru has made it very clear there will be no International Flights until at least June 1st, 2020. Latam Airlines has quoted the Government as saying se suspenden todos los vuelos comerciales domésticos e internacionales dentro de Perú hasta el 31 de mayo de 2020 or in English "We've suspended all commercial domestic and International flights inside of Peru until the 31st of May 2020"
Even other Major North American Airlines have confirmed international flights to Lima Peru will not happen until at least June. Take a look at this article about American Airlines They make it clear that American Airlines won't be flying to Lima Peru until June 2020.
So far the most honest of the bigger Airlines about when they will be returning to Peru has been Jetblue.
Jetblue has stated "Due to entrance restrictions put forth by government entities, until further notice JetBlue has suspended service to/from Lima Peru"
There have been many other instances with false or misleading timelines. For example Sky Airlines one of the "Low Cost" Carriers has posted they would be flying on June 1st, they even went ahead and sold tickets to one of my clients. They then cancelled 2 days before the flight.
Que Dice El Peruano? – What Does El Peruano Say?
El Peruano is where any National Laws in Peru have to be published in order to become valid. If it's not published here, it's not valid.
The Peruvian Government has published a Law saying there will be 4 stages to the reopening of the country and international travel is listed as being in the third stage which is in July 2020 and not before.
In recent days el Peruano has changed the dates for tourism. According to this notice, many of the National Archaeological sites will be open and FREE for Children, Adolescents and Elderly from July 1st 2020 until December 31 2020 
This means the earliest you will be flying into Peru will be in July 1st 2020. Relax. . .Peru will still be here when you're able to come. Things you may have read about Peru in the past may have changed, but the sights, sounds and smells of the food will still be here just as you either remember or imagined.
Conflicting Information by Government Officials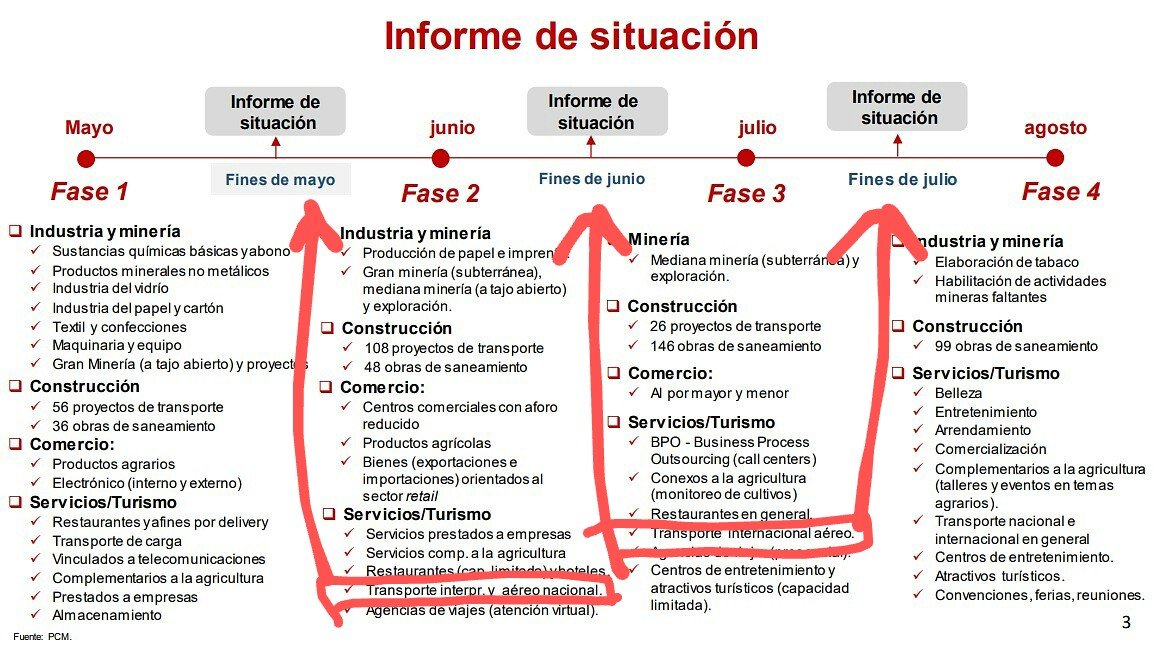 As you can see from the above picture "Fase 2" or "Phase 2" is Set to be between the end of "Mayo" or "May" and the end of "Junio" or "June". Phase 2 includes "Transporte Interprovincial and National Flights" circled in red. Also notice Phase 3 and circled in red indicates International Flights are scheduled to start in mid July.
So this is the problem here where the Government has made it clear the reopening of National Flights will be starting according to the planned reopening. However the Minister of Tourism as of May 4th 2020 has validated the opening per the above schedule as long as the required protocols are met.
Now the head of the MTC which is the one's who handle the transportation in Peru has said National flights could resume in phase 3 which is between July and August. We already know according the above picture that was approved by the government National Flights are supposed to start in June and not between July and August.
So which is it? What I can tell you is this. I have clients who have bought and have scheduled National Flights for June 1st. And one client has scheduled an International Fight on June 8th. Sky Airlines has posted telling passengers with Scheduled National Flights "If their flights between June 1st and June 16th are cancelled they can reschedule for a later date"
Update on the clients scheduled for June 1st, their flight's have been cancelled. The airline has rescheduled for July 3rd. Oddly enough the Government has said in the last week that national flight and inter-province travel will start within the first 15 days of July with a more focused timeline of July 13 – 15th. I guess we'll see what happens.
The MTC has approved inter- province bus travel to be at 100% capacity. There will be a light curtain between passengers seats and a plastic sheet splitting the isle. They further went on to say there may be "some" international flights allowed. The MTC is "evaluating" international flight between Bolivia, Chile, Colombia and Peru. As of right now all flights would be into and out of Cusco, that is assuming the plan gets approved. 
The Actual quote from Transport and Communications Minister Carlos Lozada is that international flights could resume before the fourth phase of the economic revival begins, which is scheduled for August this year. "The reopening of international passenger flights was scheduled for the fourth phase of reactivation (Editor's note: International Flight's were scheduled for phase 3). However, what we are seeing is that we can bring it forward, but it will definitely be after the resumption of regional flights, "he said on TV Peru. "In order to open international flights, there must be an agreement between the parties and open the borders between the two countries, in addition to having contagion control," he added. Carlos Lozada announced that a pilot plan is being evaluated to restart international flights and that the Cusco Airport is likely to be chosen to carry it out. "The regional governor believes that Cusco can open international routes with Bolivia, Chile and Colombia," he said. "Then we could start with Cusco or start in the fourth phase by opening, very focused, international flights," he added. The minister reiterated that national air transport would restart in the first fortnight of July and that the biosafety protocols for airports have already been concluded.
Much Of The Conflict Of Information Is Over
Finally after weeks and months of speculation we get a somewhat direct answer to at least when National Flights will begin. Unfortunately even the new Decree is vague as to the actual date the airport and flights will start. The newest Decree states "National flights will start when the State of Emergency ends.
This sounds like good news, again unfortunately it's vague in the sense that the Peruvian Government has continued to extend the State of Emergency time and time again, and at the last minute. Currently (as of June 1, 2020) the State of Emergency is set to end on June 30, 2020.
Bottom Line Stay Safe
No matter how badly Peru needs the tourism industry to survive, or how badly you want to come see all Peru has to offer, you, your friends and family's safety comes first. Stay safe, and follow the guidelines even if you yourself don't agree with them.