Taxi Estacion – What Are They And How Do they Work? 
Taxi Estacion is Spanish for Station Taxi. This means the driver works for a company. The rules around this type of taxi are pretty relaxed by comparison to Taxi Remisse (which is what Gringo Taxis are).
How Do Station Taxi's Work?
As I mentioned above the rules around this type of taxi are fairly flexible. You shouldn't find these taxi's parked on the corner of Avenues in Lima but you often will. The laws state Station Taxis are not allowed to park on corners as do Independent Taxi's do. You can also just flag or hale one down just by sticking your finger in the air.
Once you've haled one, like it or not, it's time to negotiate. Unfortunately while these driver's are working for a company, they don't have customers provided to them from the companies they work for. In turn they operate very similar to the Independent Taxi's. 
Rates
One thing you need to think about is whether the driver is asking for soles or dollars. As a tourist, many drivers will give you a rate without telling you it's in dollars. Be sure to ask or be prepared to overpay. Station Taxi Driver's set their own rates. And even though I have my own car, on occasion I still need a taxi. Personally, I've never been asked to pay more than 35 soles to go anywhere in the city. Short trips of just a few blocks should never be more than 5 soles, while longer ones can run 18-25 soles.
Condition Matters
Station Taxi driver either own or rent the car they are driving. However most are rented. They sign a contract with the owner and literally do what they want with the car doing what's called "Puerta Libre" or "Open Door". This means the driver pays for the unit 6  days a week and the 7th is free. This also means the driver's take the car's home with them as if it was their own car's. If they damage the vehicle they don't care because it's not theirs. The owner then tries to get the driver to pay a small amount extra with every payment. The payment to is cover the repairs which almost never happens. So the cycle continues and you end up with run down cars and drivers who don't care.
How do I Identify A Station Taxi?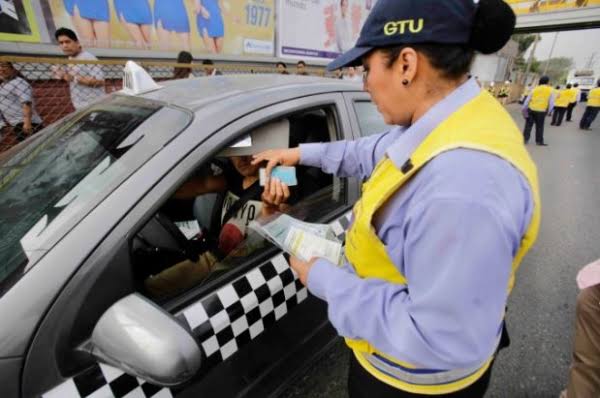 In the picture above you'll see the car has a Black and White checkered pattern on the side. This is one way but there are others.
Some will have a sticker on the door indicating they're "Taxi Estacion".
You'll also read on many blogs that legal taxis are yellow. That said Station Taxi's are required to be painted "White". As a legal taxi business here in Peru, I can tell you that's not 100% accurate and he reason it's not is that there are competing laws between Lima and Callao.
Lima and Callao signed an agreement with each other allowing taxis registered in either district to circulate in each other's district without problems. That being said Lima does have a law on the books saying all Station taxi's must be White.
So Why All The Confusion?
The Municipality of Lima has postponed the obligation to paint authorized Station Taxi's White until December 31 of 2019 or until determined by the ATU. However as of April 2020 nothing has changed and in my opinion, this is still a long way off following the Covid-19 countrywide shutdown. All of that said both Lima and the ATU have decided the extension does not affect the mandatory use of the checkered stripe on the sides of the vehicle to identify the service. Unfortunately to date there has been no recent update to provide you with more information.
The Municipality of Lima has also stated there are more than 70,000 legally registered Taxis in the municipality of Lima (remember Lima is not Callao)
Not to confuse you any more. Don't worry about the color of the car. One sure way to tell if the car and driver are a real taxi is to ask the driver for his ATU document.