Lima Airport Post COVID-199
Ok there's an update regarding international flights. The requirements for flying internationally are much the same as before but with a few additions. Here we'll discuss the Bio-safety standards, domestic air travel as well as international flights to or from Lima. We'll also provide information on a new Application for immigration being launched in the coming days for both IOS and Android user's.
Take a look. . .
 Information has finally been released on how thing's will look at The Lima airport Post COVID – 19. This includes both International and Domestic Flight. The Lima Airports Plan is to warn Passengers there will be long delays disembarking. The delays are the direct result of greater control the Ministerio de Salud (MINSA) will be taking to combat the CORONAVIRUS." And stem from extraordinary measures the government is taking to combat the virus. Click on the link to read the actual Press Release. 
Looking for details? Keep reading, you'll find them below.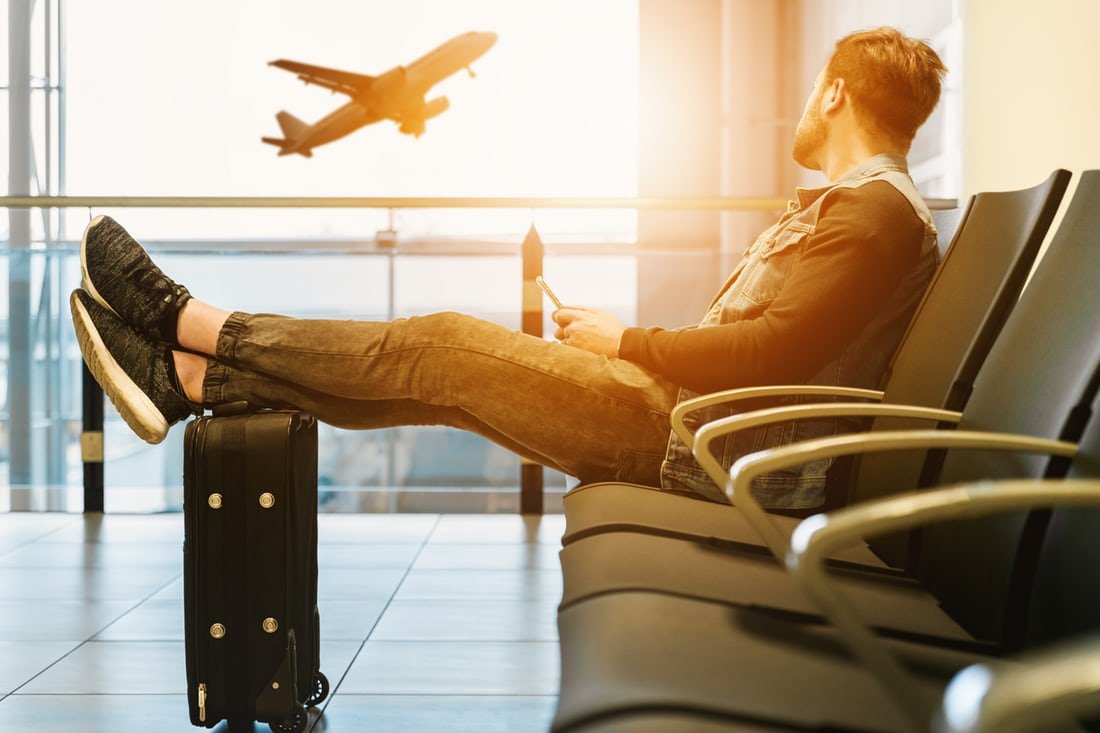 The wait has been long and arduous for many. Finally we're nearing a point where once again, people can start to plan their flights to and from Peru. I can tell you this. What you're about to read is what will be required and enforced, at least in the short term. 
If you're also wanting to know how your next Airport Taxi ride will look, You can check out the new Taxi Regulations
Who Set The Lima Airport Bio-Safety Standards?
The three companies in charge of managing eighteen of Peru's airports are Areopuertos del Peru, Aeropuertos del Andinos del Peru and Lima Airport Partners. Combined these  companies have come up with the following Bio-Safety standards. These new standards will apply to both National and International Flight. The goal is to help guarantee both the passengers, and workers safety while using the Airports in and around Peru. 
The three companies have partially coordinated with the MTC (Head of Transportation in Peru). They have also worked with El Consejo Internacional de Aeropuertos Latin America y El Caribe and the Organizacion de Aviacion Civil Internacional. 
Lima Airport Partners has stated that "everything is set and ready to restart their operations". They have also confirmed they'll be working on improving service standards and they'll offer passengers a safe experience on their trip. Furthermore all of the Airport personnel will have Personal Protection Equipment (PPE), there will also be signs placed to alert passengers of the new safety standards.
The Lima Airport Plan Creates Longer And Longer Delays
We have been doing picking clients up to or from the airport for nearly 5 years now. And with over 10,000 satisfied customers we have a bit of experience on how long things used to take versus now.
Up until the invention of Biometric passports and now Covid-19 you could clear customs and immigration inside of 60 minutes. Add on checking everyone's temperature before disembarking and photo at Immigration and it's nearly 3 hours. Which is why it's so important to have communication when you travel.
Lima Departures
This section is for all passengers, whether domestic of international.
Temperature's will be taken upon admission. Anyone with a fever will be directed to the Peruvian Health Authorities.
Mask's are required
Only passengers will be allowed to enter. However if the passenger needs help, they may enter with a companion.
The materials for the disinfection of footwear will be provided before entering.
If lines begin to form, "Social Distancing" will be respected. Look for signage for guidance.
Electronic Check-in is recommended before arriving at the Airport.
In the event a passenger needs to Check-in at the Airport they can use the Airline's Check-in kiosk. Passengers must respect the "Social Distancing throughout the process.
Passengers must personally clear their own luggage.
Waiting Areas
Passengers will go to the X-Ray control and forma line, throughout the process they'll respect "Social Distancing".
Passengers will respect the "Social Distance" in regards to the Airport Security officer.
Passengers will enter the Departure Lounge and wait while respecting "Social Distance"
When boarding, you'll form a line and be expected to maintain "Social Distancing"
Once you've boarded, Passengers will follow the procedures of their Airline.
So What Has Changed?
To be honest I have to ask "what has changed". Really not that much from what I can see listed above. The big thing will be maintaining the "Social Distance" as we discussed previously. This however can be harder than one thinks in Peru. On average Peruvians stand much closer than any of their foreign counterparts. If there's an opening many times they'll just walk up and take that space. If this happens to you, do not be afraid to speak up. Just tell them "la cola esta ahi" and point to the end of the line. 
Wait! That's not all!
Keep reading for the details on domestic and international flight safety protocols.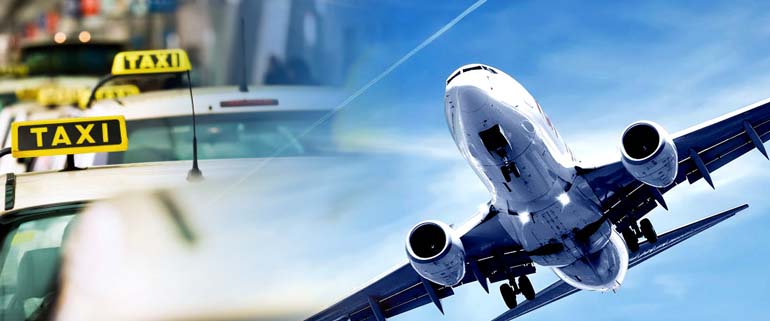 New Domestic In-Flight Standards Have Been Issued 
Today's news brings with it new regulations on domestic (national) flights. The MTC has finally provided the list of requirements for National flights. They've been telling us for weeks that National Flights would start on July 15th but had until very recently failed to provide information on what the airlines would need to do to be able to return to the sky.
Looking for International flight Information? Don't worry we'll get to it, just keep reading.
The New List Of Regulations For Domestic Flights
Passengers must wear a mask AND face shield at all times, unless there is an emergency circumstance. with the exception of consumption of food or drink (which will not be provided)
All food and drinks are suspended, as well as Newspapers, magazines. (this service is said to be resuming) 
Restrooms will be restricted. The front Restroom on the plane will be for "Flight Crew Only". That is unless there is not enough toilets available to prevent people congregating waiting to use them.
Airline's must use the cabin fans to keep the air moving and provide proper ventilation and filtering of the air.
along with the standard safety guidelines the airline is required to announce over the PA system, the new standards.
Information On International Flights
The first word says it all "International". Peru does not set the "standard" for "international flights". The best they can do is implement a departure or arrival procedure for airlines. Ultimately the airline's will end up making their own rules guided by IATA or the WHO or some other agency with lots of letters.
Latam Airlines Says
"Your safety is the most important thing. This is why we are following the recommendations of international organizations such as the International Air Transport Association (IATA), the World Health Organization (WHO), governments and more".
You can read all the details on Latam here
And these are a few of their partner airlines Covid related information pages
Here's what you can Expect from many others as well.
United Airlines, Jetblue, Copa Airlines, Avianca Airlines, Spirit Airlines, Interjet, Aeromexico, Air Europa, Air France, Argentina Airlines and American Airlines
International Flight Requirements
While we now know there will be international fight to and from the Lima Airport. We didn't know what countries or cities would be on the list until recently. The international flights are authorized starting October 5th, 2020 to the following places. Of the 7 countries there are 11 cites you can fly to or from.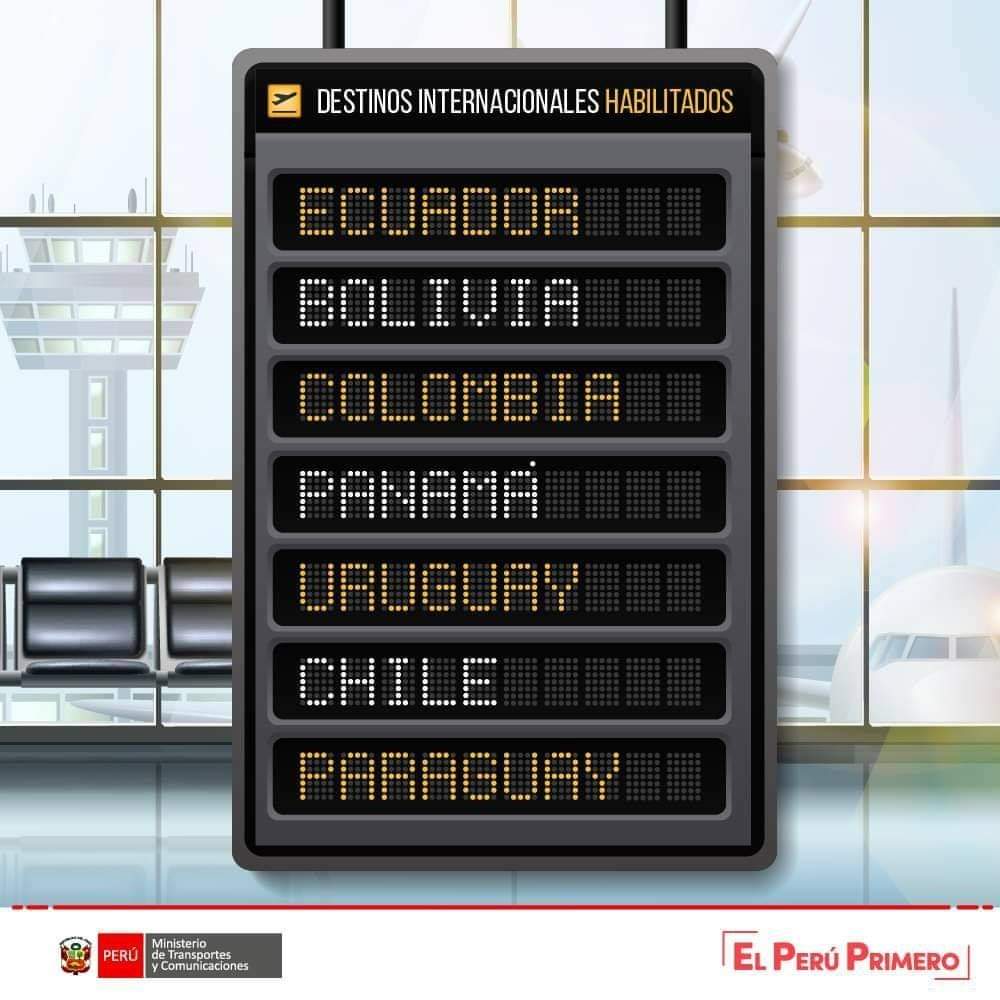 A new updated list of countries was put out on October 21st which includes flights up to 8 hours. This means as of November 1st, flights to the US and Canada are permitted. Unfortunately Air Canada does not have any flights scheduled until very late November. 
The Requirements If You Plan To Fly
If you prefer to read them in Spanish you can read them here lineamientos (google drive document).
Keep Reading for the English version
Mandatory use of a mask at the airport. On the plane, you must wear a mask and face shield.
The mask can only be removed when eating food or drinks. In addition, passengers may be required to remove the mask for a short time to compare their face with the photo of the travel document, such as the passport.
The passenger who travels must show a negative result of a molecular test carried out within 72 hours before departure. The same requirement for passengers arriving in Peru.
Note: The Jorge Chavez International Airport has posted on their Facebook page that "NO COVID TEST IS REQUIRED". This not 100% accurate. In fact in recent days many people have been turned away for not having a test done. From my understanding, all passengers need a test based on the country they're flying in to. So if you're flying to Panama, you'll need to meet the Panamanian requirements, same for Colombia, Ecuador and so on. Once you have the test completed, you need to forward the results to that country's Embassy here in Lima. Best to ask your airline. 
Travelers, crew members and airport personnel in general should be urged to detect a person with symptoms compatible with COVID-19, they will not be able to make the trip.
This requirement is indistinct for all passengers.
Travelers must fill out the "Electronic Health Affidavit, and commitment to isolate or quarantine the traveler" in the 72 hours prior to the flight.
Failure to use a mask or follow the instructions given by the airlines, the airport or others, may lead to the cancellation of the boarding or cause to reject the passenger's boarding to the Peruvian state.
Passengers who do not show symptoms upon arrival in Peru will not be required to quarantine. But they must commitment to communicate to the health authority of their jurisdiction if they present symptoms, within 14 days of their arrival in the country.
If the passenger has symptoms, they must complete 14 days of mandatory isolation at the home or accommodation of their choice.
The air operator must make announcements about preventive measures that passengers must maintain during the flight, upon arrival and in the destination country.
The person who provides false information in the sworn statement will be subject to the corresponding administrative, civil and criminal sanctions.
Departing from Peru, and before entering the plane, passengers on connecting flights must wear a mask and face shield.
Passengers passing through Peru on connecting flights must present a negative molecular test only if the destination country requires it. It is not required to fill out an affidavit.
The Peruvian government has also mentioned reevaluating which countries are approved on the October 20th.
New Immigration App
Andina is reporting, Citizens who need to travel abroad after the reopening of international flights at the Jorge Chávez International Airport will be able to carry out migration control with minimal contact to mitigate the risk of contagion of covid-19, reported the National Superintendence of Migration.
This innovative procedure will allow national and foreign passengers to pre-register through a mobile application with the Android operating system that captures all their personal information, as if it were a face-to-face procedure, without being it.

This mobile application will also be available in the coming days for mobile devices with an IOS system.

Thanks to this, queues will be avoided in the Migration area of ​​the country's main air terminal.

Passengers must install the "Pre-registration" application on their cell phone or mobile device connected to the internet. The pre-registration process must be done within 48 hours before the international trip.

The process allows the application to capture passenger information by scanning the passport data reading area with the cell phone camera.

Subsequently, the user must scan the QR code on the boarding pass to obtain travel information and capture the data related to their health.

This will allow knowing the destination, airline, flight time, among other data corresponding to the person's trip. Likewise, the passenger is obliged to fill out an affidavit of health to detect a possible risk of contagion.

Then, the system will request the photographic capture of the citizen's face and compiles it in the application. Once this is done, the system will give you a QR code with which the person will appear at the airport.

The application allows you to save time, maintain social distance and avoid contact with potentially virus-transmitting objects.

This technological tool has been developed by Migrations engineers to provide a better service to users during the return to the new normal.

With this system, Migrations consolidates itself as the leading institution in digital transformation in the public sector and strengthens its service to users, making it more efficient and safeguarding national security.
Extra Options
We have avoided selling items to our clients. That said, given the new MTC requirements as well as the new standards for international flight, we'll have 2 different Face Masks available as well as a Face Shield for purchase as an "Extra Option".